Out of boredom, I dyed my hair. The first and last time I ever attempted to do so was a few weeks shy of my 18th birthday; I guess I did a pretty decent job, considering I was only 17 then.
Quick comparison.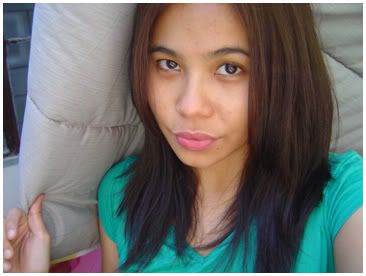 I thought it appropriate to take a "Hi my name is Mhe-Annze, I'm from Balara, txtm8z?! EB?!?!" photo. Bah, I know I look fug there, but it's okai! Cos I've got inner beautay! And all that jazz!
ARGH. Look at my eyebrows, look at my hair. So I did what seemed to be the sanest thing to do, up until 5 seconds ago (cos now I have nooo idea how I'm going to rinse it out— dunk my face into a basin of water?): I used the leftover dye on my eyebrows.
Next time, I find time to sit my ass in a salon and have a pro do it. Red highlights, yes. Or totally go Fiona Apple-brown. It's instances like these that make me feel I'm a waste of kikay estrogen. I can do the dishes, do the laundry, scrub the floor, maybe throw in some ironing (and cooking, definitely cooking. And shoe-shining), and pee perfectly into a bottle. But I cannot, for the life of me, cut my own nails, pluck my own eyebrows, and dye my own hair.
Also, I think this is nervousness I'm feeling: tonight, I get to see what it really is like, being a corporate travel specialist. Ooh boy, after more than two months, I'm back to taking in calls. Also, I'm craving for Kublai's eat-all-you-can buffet.
Can't everyday be Sunday? Can I please get an LCD HDTV?