It finally hit me the other day that I've been out of college for a semester now. It feels longer, but only because I threw away my mom's money by enrolling for a sem and not attending my classes. But let's not go down that path.
There are a lot of things I miss about my college years, none of which are:
-partying and getting drunk as fuck on a school night and feeling guilty for missing all my classes the next day or
-getting drunk and dropping Stilnox the night before the first day of classes and sleeping through my first class and waking up to frantic messages on my phone from concerned blockmates worrying that I've flipped my education the middle finger in lieu of living a doped-up groupie life where I will get impregnated by a deadbeat has-been drummer in a matter of weeks and I'll have to resort to selling my things on ebay to support my unplanned unborn child or
-getting shitfaced piss drunk on a school night and waking up two days later and feeling rejuvenated and good for a dazed two minutes before realizing that I missed two days worth of college and 'holy shit, why am I naked and why don't my room mates care?!'.
In short, here's a semi-short list of worthwhile things I miss about college.
1. KAFE days. The epitome of crazy, like hid lights cuhrazeh. This is when I discovered that reviewing for my Physics pre-lims while drinking San Mig Light mixed with Extra Joss with a straw from an ice bucket will result into my taking my pre-lims drunk and consequently my scoring the highest in the exam which will lead into my being exempted from said subject's finals. The only one in my class, bitches. Also, I broke the sink in the ladies' washroom with a bottle of Colt45. I wasn't drunk, just angst-ridden. KAFE is also where I first and only experienced getting buzzed drinking cough syrup mixed with gin.
2. Starbucks. I know it sounds pretentious and shit, but I assure you: I was never that Miriam girl. You know, the kind who goes to Starbucks with five or eighteen of her friends and only one actually orders from the bar while the rest smoke their Winston lights and take photos of each other with their camera phones?
Starbucks was for late-night studying with a study buddy or two, each of us talking minimally. Armed with our highlighters, stacks of photocopied reading materials, and a "break book", we'd nurse our coffees until the guard lowered the metal accordion gate. And then we'd stay a little bit more before trudging back to our respective homes, bothered by the thought that we didn't get to cram in enough studying.
3. My classes. It may not seem so, but Miriam College is actually a pretty awesome college. A bit hard to digest, being sandwiched by UP and Ateneo and being an all-girls school whose population is mainly made up of airheads whom I've been told all look the same (I think the exact words were mga chicks ng Miriam pare-pareho itsura). But really, we have a competitive curriculum. Or so I was told by my department head when I was stressing during registration because the classes I needed to take that sem weren't offered (and they were pre-reqs!) when they said last sem they were going to be offered. I remember being buddies with our school registrar and sharing our frustrations. "Your course keeps changing it's curriculum every sem!" "I know! 'Dynamic', my ass, I need that Seminar on International and Regional Organizations class, damn it and where is eeeet!!!"
There was this one semester I was willing to commit suicide by taking up 29 units. The registrar approved my request, my department head yelled at me. For wanting to commit suicide. "You're taking International and Globalized Economics this sem!", she shrieked, waving my list of subjects in the air. "Do you think that's an easy class?! Are you suicidal?!" I ended up with 21 units and a 4.5 in IGE when the semester ended. PS: 5 is the highest in our grading system.
4. Screwing up all the damn time.
5. Regidorm. A story: once upon a time, I had friends who lived in a room in a house on Regidor Street inside Varsity Hills. We named that house Regidorm. Every vacant period, droves of Miriam girls would walk up to the tricycle stand with one cry: "Manong, sa Regidor!" Trike drivers wondered: "Sorority house ba yan?" No, manong, it's Regidorm, the house where we smoke our lungs out in the front yard, eat meal after meal ordered from Happy Homes, played old school Family Computer video games (Pooyan!) on some VCD-like console, and just generally had beautiful conversations with friends.
6. Ionamin and going 48 hours without sleep because a comprehensive analysis slash book report of The Communist Manifesto is due on the same day as my 27-hour community service for Theology class is. And I still had four hours to complete. Red Bull Light as my date for four consecutive Fridays because there was always something that required pulling an all-nighter for for my Saturday morning Comparative Foreign Policy class. Nights spent at Seattle's Best Coffee's airconditioned smoking area, reading Mark Hardt's Empire from my ancient Toshiba laptop. Begging my Thesis groupmate for a half-hour break so I can go home to the dorm and take a quick nap. Waking up forty-five minutes later, jumping into the shower, standing under cold water, wrapping myself in a towel afterwards, and then falling asleep with my head leaning against my closet.
In other words, making like a zombie.
7. The standard philosophical and political ramblings that seem to be expected of and even natural to college students, but are just pretentious and can be downright laughable now. LIKE, SERIOUSLY. Retardation, incoherence, and Sheryl Cruz > Jean-Paul Sartre, Amartya Sen, Focault, and figuring out the meaning of life (the answer is 42). But it's still something to be missed, like, loads cos back then I could, like, actually finish a whole conversation without sounding like a wannabe Valley Girl. Tubular!
That's my abridged list. And now, a photo for posterity: because if there's one thing I will never miss, it's having to wear my uniform four times a week. Do you guys have ANY idea how hot it is under those clothes?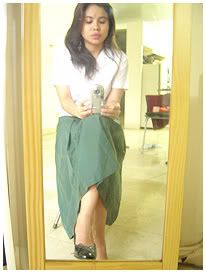 And today's "This Gave Me The Happies!" conversation is still with Mr Supervisor:
Helga: Ang taba-taba ni -Mr Sup's name-! *squeezes Mr Supervisor's tummy*
Him: Don't worry, sweetheart, I'm working on it! *squeezes my tummy back* Nakakahiya, I might not be able to date Helga HAHAHAHAHAHAHAHA!
:blush: