I never really go to offline blogger events or "parties", save for TMB celebraganzas, for the sole reason that I'm antisocial (what? Lololol). So anyway, having nothing better to do on a Thursday night (I lie: I actually filed a leave for that night for this "party"), I, with the awesome TMB monkeys + my "date" made my way to Taste Asia 2. Honestly, I had no clue what the event was all about; I just wanted to, like, be there.
The majority of the night was spent not socializing and just downing bottle after bottle of booze at The TMB Table. And several trips to the washroom which was three meters behind our table. WHAT A FANTASTIC PARTEEEEH, HUH? Too bad I was too lazy to go around and look for people I know/wanted to meet IRL (read: just one: Shari).
I did see Benj which was awesomecakes as I haven't seen the guy since 2001, and I finally got to meet the sexy nomad Jen Mordo. I missed Liz, though, boo. Highlight of the evening was seeing Bim and Mikey fighting over Penny.
Mikey: Kunyari Bim and I are the last two guys on earth.
Bim: Tapos may goat.
Penny chooses Bim, huzzah!
Bim and Steel are gangstahs.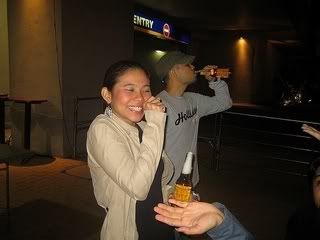 Me, looking like a moron. Chubby AZN cheeks explosion!
Photos swiped from Ade.
All in all, and like any night spent with the TMB kids, I had loads of fun. And now I seriously need to de-tox; no drinking until September.