I have decided that the concept of life as an unemployed 22-year old waiting for her life to start would make perfect chick lit material, and that I should put my talent (lolwhat?) for stringing words together to form sentences and paragraphs to good use by writing that sort of novel. But I'm lazy and chick lit heroines are required to have the one thing that I lack and that my friends, is a resume stating that she graduated top of her class from some prestigious and insanely expensive university.
So I'm royally bored. Last night, lover asked me what my plans were for today. I replied with "Nothing…and I LOVE it!". And I do. I woke up at a little past 11 today and I couldn't decide what, of my many options, to do first: play Sims 2? Finish watching Shopgirl? Finish watching Lucky Number Slevin (yes, I have a habit of watching movies in halves)? Watch The Ten for the second time? Shower? Clean our guest bathroom? Go online? Work on this blog's new layout? Guess which of those I didn't do (clue: it includes scrubbing, detergent, bleach, and a toilet brush).
It's scaring me shitless, though, knowing that I have voluntarily rendered my bank account stagnant and I won't be drawing a salary until further notice. The other day, I stood outside our bathroom as my housemate was taking a shower (conversations when the other party is naked and covered in soap suds makes for, well, good conversation) and I told her the amount I had in my bank account and how I only have enough to last me until the next month's rent (I actually had enough to pay for three months plus a little more but our "contract" ends in February and then I move back home until I figure things out. Also, rent isn't the only thing I pay for; I DO send an economically-disadvantaged kid in Bangladesh to school and donate to charity. Okay, so I'm lying and now I feel bad) and she told me that I had a lot. I said NO!!! DON'T YOU KNOW? I DONATE TO CHARITY! and she said "Well, you have your folks."
True that.
Right now, my head is in my hands, as I think of ways to swindle money from my mom. Kidding, mom's actually agreed to finance whatever "academic" whims I have that need financing (but I doubt she'd agree to send me back to an actual university or college for another eight semesters) and it's annoying that now that I know I have a safety net in the form of a 46-year old woman, I'm starting to not want to do anything with my life. I'm probably going to end up the typical Filipino: 36-years old with 3 kids (different fathers, no husband) still living with her folks.
I need a good nudge and perhaps the will to start going through the reading materials that my personal career coach (who also doubles as the lover) has so sexily provided me. My eBooks, let me show you it: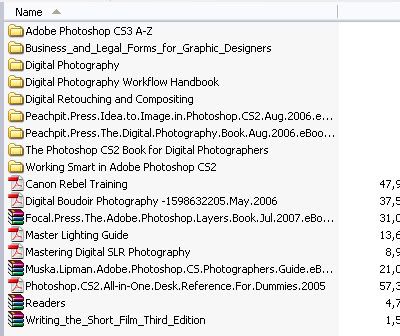 Nevermind that he totally ignored the fact that I don't have a dSLR or a camera that's spiffier than my Cybershot.
So. What now. Life, are you there? It's me, Helga.
Edit// I checked my email and found a letter from the past, from me, to me:
One year from now, when you read this, I hope you'll be happy and loved. Same as the last letter you sent yourself. You read it just a few days ago; you had wished yourself (more than a year ago) to be happy and loved. You were, when that letter came. And now you're not.
OMG, the emo-ness. But I am happy. And loved. But more importantly, loving. :cute: