First day of formal web design class today and I was royally bored for the sole reason that I had to endure four hours of basic html/xhtml— stuff that I learned on my own when I was 12. Almost over ten freakin' years ago.
The youngest in our small class of five is this 13-year old dude who just graduated grade school. He said he'll be moving to the US for high school and he's taking up web design so he could earn money during the wait (or something like that. The moment he said he was 13, I lost all interest). Several times, I heard him exclaim "I'm just a kid!" when we were made to work on an exercise). I kept thinking: "how lucky is this kid?" When I was 12 and had just discovered gURLpages and the wonderful world of HTML, it never hit me that I could make a career out of making and designing websites. There were no schools that offered courses or classes on it back then (hell, the school I'm attending now was founded only 7 years ago). I was just a kid fooling around with WYSIWYG editors, outlining her layouts and content on notebooks, and doing her best to make sense out of strings of code and tags.
I was young and stupid, though. Not realizing my full potential (naks!) at an early age and not taking seriously the fact that I knew how to code (during a time when all my peers did was chat on mIRC and ICQ and host their photos on face-pic.com), I merely dicked around the innurnets and went down the blogging path. Ten years later and I'm still dicking around. All I have to show is a good grasp of HTML and CSS and some knowledge on PHP. I am SO left behind. I don't even know Flash! I only have Photoshop CS2! I just recently started using the pen tool for cutouts and I still prefer the lasso tool! I still code using Notepad!
Anyways, finally, I have a goal (one that isn't amoral and doesn't entail anything illegal): to be the first student to ever get a certificate of excellence from my school. The final project is to create a fully functional website and it's quite alarming, how easy and simple it is. Did I just waste my mother's money? To make up for the expense, I'm seriously tempted to make a porn site.
My new favoritest thing in the world: Hershey's Cookies 'n' Creme milk drink. I was STAAAARVING the whole day because I forgot to eat the whole Sunday and I didn't have time to ingest anything but coffee this morning, so I was super glad to come home to this (yeah, I'm shallow and easy to please like that):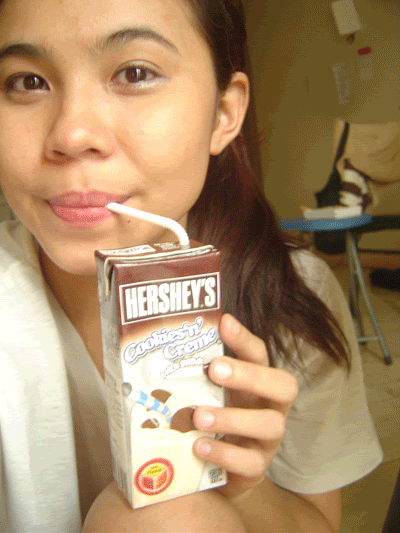 Yummers.