As most of you already know (because the very day I got it, I messaged half of the people on my YM list), I was recently given a Flickr PRO account by a very awesome, very generous, and very sexy person (also known as my lover). Now I'm no photographer and I grudgingly make do with my stupid piece-of-shit point-and-shoot Sony Cybershot and Photoshop to come up with half-decent photos (I'm sorry, I take photos not pictures; same way that I watch films, not movies. Now HUHLOLZ with me, please). Amazingly enough I've been told (by lover and my mom) that I have an eye for photography and that I take nice photos (again, said by lover and my mom).
Lover even created another YM handle to "anonymously" message me (under the username t****ekicks) to say this:
t****ekicks: some nice pictures on you flickr. you should upgrade to a dSLR soon.
Helga: I know, haha. Thank you =)
(t****ekicks: Also, nice tits. Your face isn't so bad but your mouth is so annoying, I feel the need to bitchslap it. Hard. With my penis.)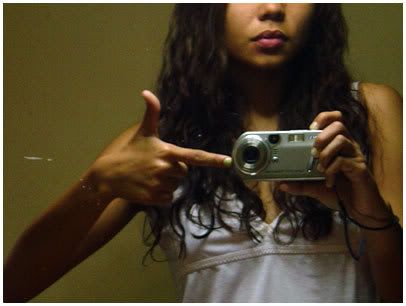 MY POINT-AND-SHOOT CAMERA. LOHOHOLZ I'M SO WITTEH!
But this entry isn't about how I truly need to get rid of my POSPOS cam and get myself a snazzy dSLR (because really, I don't want to bully an already stressed, very awesome, very generous, and very sexy person also known as my lover and pressure him into doing something he probably only meant half-heartedly by publishing in my blog that he plans on getting me one. One = dSLR). No siree.
I was chatting with a friend today and she happened to be on my Flickr account (not surprisingly, as I have been pimping it non-stop the past week). This is what she had to say:
Her: I hate these one angle girls. I want to punch them in the face lol
Her: I love how your pics have such variety
So I may not be a photographer but I sure am a camwhore (and a pretty damn good one, except when other people are taking my pictur— I mean, photos. Somehow, I always end up looking like a tool when I'm not the one doing the snapping). Give me five minutes with a camera and I'll take about 200+ pictur— I mean, photos. Of myself. And maybe myself with a few random objects and someone else's elbow.
Now because I am such an awesome awesome camwhore (it's also probably the only thing in my life I'm good at, besides giving head), I'm here to give you a few quick and basic DON'T EVER DO THAT!s in camwhoring.
1. Never ever show your stupid arm.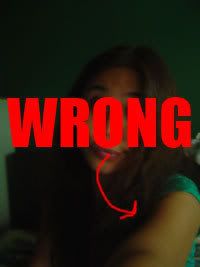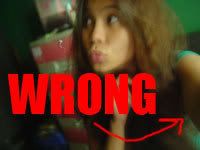 2. Never ever shoot from the top of your stupid head.
3. Never ever shoot at stupid angles with stupid faces and stupid poses. Unless you're a five-year old.
4. Never hold that camera in front of you with both arms extended and both hands holding the cam.
5. Never ever combine 1, 2, and 4. For the love of all things good and holy— NEVER EVER.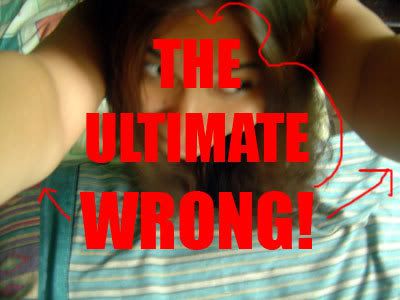 Let's make the internet a nicer place to look at, mkae?
Disclaimer: All pictures of me doing ANY of the aforementioned (plus doing the annoying Kawaii! sign) are clearly Photoshopped or are from the year 2004. Kthx.