Friday night at our neighborhood watering hole, I was able to witness a Miriam College Lesbian Chick Fight (of course, I could be wrong about them being from Miriam College, especially since I can't argue "I know my kind" because a) I am not a lesbian, b) I refuse to associate myself with them and c) I wasn't your typical MC chick. But yeah, I know a Miriam College lesbian when I see one). A drunken group of girls sitting on the sidewalk (a few meters away from the garbage pile), two of them bitching at each other while the rest sat around and not cared. The butch in the relationship starts cursing at the femme and the femme curses back. Femme stands up, butch pushes her back, and femme— in her tube dress glory— falls ungracefully on the concrete, her legs up in the air. The fight doesn't end there, but we don't stick around to watch for more. Too bad I forgot my SD card at home, or else I'd have sneakily snapped some pictures.
I recount the incident to some friends and throw in a couple more stories about how feral lesbian relationships' fights can get. One of them says that perhaps it's the lack of sex between girl-girl couples that make them so volatile and violent. I agree.
But really, for the following chicks ladies, I'd willingly give up…well, a few things (trying to keep it PG, trying to avoid the C-word).
KRISTEN BELL (Veronica Mars, Forgetting Sarah Marshall)
MILEY CYRUS (Hannah Montana)
(Nevermind that I've never seen an episode of Hannah Montana, I adore Little Miss Skank City. At first, I couldn't decide whether or not to like her camwhoring ass until I saw her guest and sing on Oprah and that's when I decided: I like her camwhoring ass.
Also, I felt really really dirty looking at pictures of Miley.)
KIM KARDASHIAN (her sex tape with Ray J, Keeping Up With The Kardashians)
(Again, nevermind that she's shallow and #2 on the New York Times' dumbest list and maybe her ass is two seconds away from being obese. Kim K is hot stuff.)
HAYDEN PANETTIERE (Bring It On: All Or Nothing, Heroes)
(She makes out with girls! Or used to, same difference.)
MILA KUNIS (That 70s Show)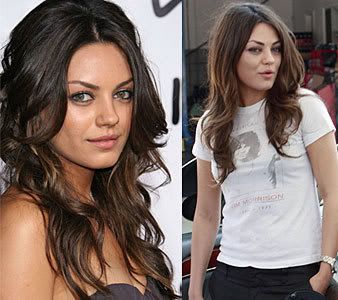 LEIGHTON MEESTER (Gossip Girl)