I made a stupid mistake: without thinking, I bought a pair of opaque fluorescent red tights. No, I did not have Blair Waldorf in mind when I made the purchase. Neither was I contemplating a career in the circus nor was I aspiring to be a third world scene queen. I just walked into the store, grabbed a pair, and paid for it. I was vaguely imagining pairing it with my new black dress (really, Helga, black and red? Together? Really???) and for some reason, I had this demented idea that I could pull it off and look cute.
Wrong =(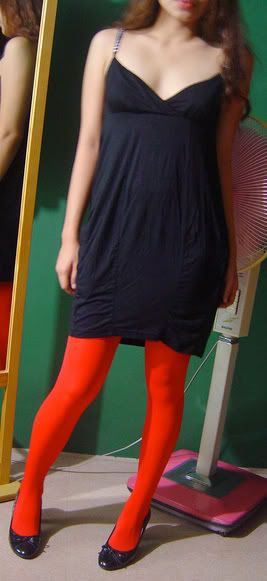 (Please ignore my ancient pink stand fan)
So now I am stuck with a pair of bright red tights that I will probably never wear because such flashy and daring pieces of clothing is just way out of my "fashion" zone (if you've met me in person, you'll know that I dress quite boringly). But I won't give up, not without a fight! I turn to the lover who is scarily well-versed in girly things like make-up and women's clothes:
Helga: Where do I wear these red tights to? It's very Blair heehee. I need something dark and plaid. A dark plaid coat. AND MAYBE NEW YORK CITY WEATHER.
Lover: Don't force the issue.
A lot of help, that guy. Never the mind, there's always Uncle Google. A quick web search for how to wear red tights and I was able to gather this much:
"DON'T WEAR OPAQUE FLUORESCENT RED TIGHTS, ESPECIALLY IF YOUR NAME IS HELGA WEBER OR A PERSON IN DESPERATE NEED OF WEIGHT LOSS PILLS OR BOTH."
But like I said, I won't go down without a fight. I turned to google images and made a search for "red tights" for ideas on how I could properly wear such an abomination. From the lulzy pits of search results came several sparks of hope:
GOSSIP GIRL'S BLAIR.
SRSLY, I COULD TOTALLY ROCK THAT LOOK IF I LOST 20 POUNDS
AND LIVED IN THE REAL UPPER EAST SIDE.
FROM SOMEONE'S FLICKR ACCOUNT.
A COAT, A SCARF, AND KNEE-HIGH BORDERING-ON-HO-BOOTS BOOTS
IN PHILIPPINE WEATHER. VERY COMFY.
NAOMI CAMPBELL "PLAYING BASEBALL" IN RED TIGHTS AND RIDICULOUS SHOES.
LOL. JUST LOL.
Oh well. At least having this pair of laughable tights gives me a couple of options for Halloween costumes:
Can't wait for October!