When I got wind of Chicane coming to Manila last August, the first thing I did when I got home from my drunken Godskitchen weekend was transfer their whole discography to my iPod (ok, so more like just three albums). I've been a huge fan of theirs since, like, forever (fine, since I discovered house and electronica when I was in college) and I've always regretted not being able to see them when they were here a while ago (stupid call center schedule, really). I almost didn't go last Saturday due to some social obligations (if you must know, the brother's girlfriend had her birthday slash despedida party that same night), but when Rico offered me his other ticket, I took it as a sign from the universe and told myself: "You're meant to go, Helga. You're meant to go."
Or maybe something less dramatic than that.
And OMG, it's a good thing I went because thanks to Nokia, Jayvee, Fritz, Phoebe, and Rico (to quote Jayvee: this blogging thing *insert big smile here*), I was lucky enough to be at the pre-gig press conference and be in the same room with the band.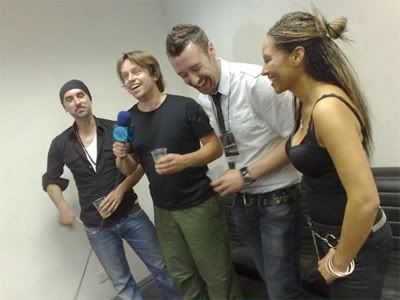 INTERVIEW WITH MYX. PHOTO CRED GOES TO JAYVEE.
JAYVEE, RICO, HELGA. PHOTO CRED GOES TO PHOEBE
(HEE, SHE TALKED MAKE-UP WITH FEMALE VOCALS, NATASHA BROCKLEBANKS. READ IT HERE).
BEST. EVENT. EVER— not once during the concert did I sit down. My kilig was so apparent that night because I couldn't stop hugging myself and squeezing my purse and well, dancing. I can't thank Nokia (and Rico!) enough for putting us in Nokia VIP (VIP section nearest the stage), giving us a great and hassle-free Chicane experience. There were some technical difficulties and even two instances of dead air, but seriously, I don't care. The band pulled through and predictably ended the night with No Ordinary Morning (as Nick Bracegirdle said during his Myx interview: "You guys love that shit, don't you?")
CHICANE ON STAGE! PHOTO CRED GOES TO PHOEBE.
♥♥♥♥♥♥♥