Even though Halloween isn't widely celebrated in the Philippines as it is in North American countries ("Halloween" here involves trips to cemeteries because we're hardcore like that), it still remains to be one of my favorite holidays. Dressing up and trick-or-treating weren't part of my childhood and as a kid, I could only jealously and bitterly witness on TV this foreign tradition.
Fortunately, thanks to the Western world's quest for cultural hegemony, dressing up for Halloween isn't such an unheard of thing anymore. We brown-skinned, cotton-picking rice-eating, jeepney-riding peepelz can now join in on the fun, yey! I think the best part (for grown-ups, at least) of Halloween is picking your costume. There are two Halloween parties I'm planning on going to this year and as usual, I'm in a bit of a tizzy trying to decide what to go as (there's also the hard part of actually getting the costume). I've narrowed down my options to these four:
Option #1: Queen Gogor (from 300) or any Greek goddess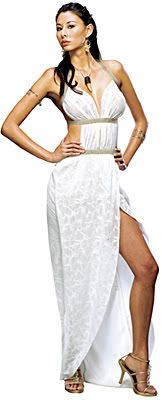 I'm not exactly sure how well I'd fare in a maxi dress with a slit that high and my arms aren't exactly toned nor is my face ~goddess~ material. Maybe it's time I start taking diet pills and lose weight just in time to ho it up for Halloween.
Option #2: Sexy geisha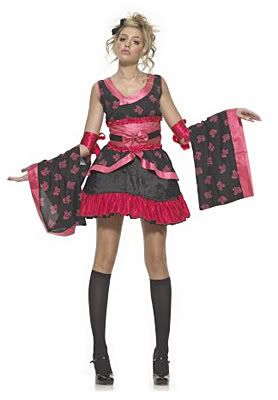 Option #3: A chola/chonga!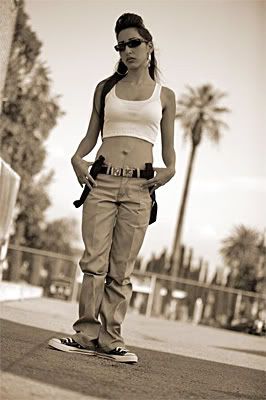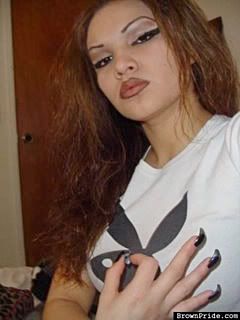 Elle oh elle. I know Tiff went as one last year and this is fairly easy to pull off. I think it's absolutely hilarious but it's bound to flop if no one else gets it.
Option #4: SM Saleslady
I'm kind of serious about this. I couldn't find a picture of an actual SM saleslady in uniform and the lover gave me a link to some movie with Mystica (pictured) playing one.
What are you dressing up as? =)