You're a gay if you didn't get socially-retarded with us at Man Blog Poker Night last Saturday. As gay as Mikey is in this photo.
Maybe not gay. Just… not cool. Enough.
This is Mikey licking his monies: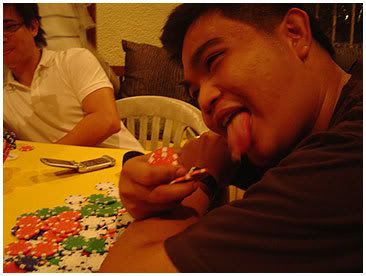 This is Bim trying to reach for his nipple: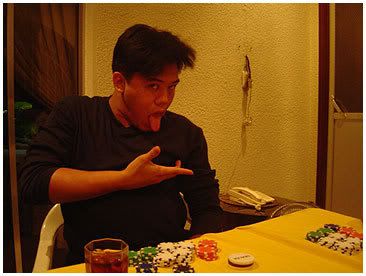 This is Ade. He's pogi.
Shoot, wrong pic! NOT ADE, NOT ADE! This is Ade:
Poker Night photos here, here, and here.
Also, I injured myself again, accidentally kneeling on a headband while taking photos. Nasty, I know. Plus, the scab on my right knee is starting to peel, and I know that wounds are nothing new to me since I am one of the clumsiest drunks alive, but— am I supposed to just let it be? Answer, so I know whether or not I can take off the scotch tape that I'm using to keep the scab intact.
SO ANYWAY! We have a new Furby. This is Drew trying to look like Teddy Bear Mislang, and succeeding.
This is me drinking AGAIN and in my Kylie-esque hoodie, Sunday morning.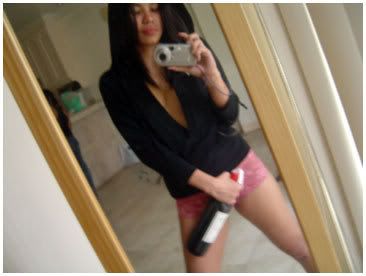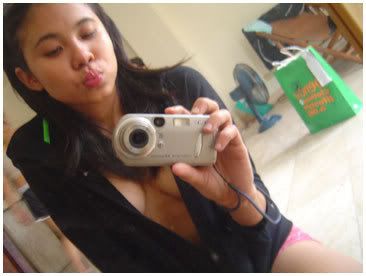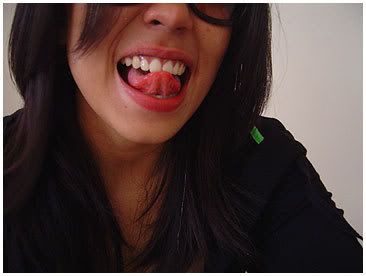 I've had The Work of Director Mark Romanek on repeat since after PBB last night up until this morning (while having my seemingly standard three mugs of coffee with my crossword puzzles), so I decided to channel a little bit of Fiona Apple— ratty underwear, but with a little lot more meat. Argh. Another week, another shot at anorexia.
This is just too cute: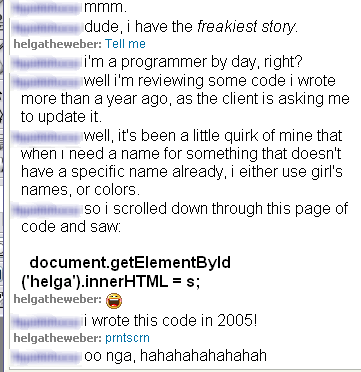 I'm aware that my entries of late have all been picture posts with some text thrown in. Fuck you all, that's how much fun I've been having.
(And that's how fried my brain is. Alcohol + travel industry + not enough sleep + reading up on home insurance quote + eating once a week— okay, okay, so maybe thrice a week = not good. Hand me the brain candy.)