Monday had me in the twilight zone with two ex-lovers ringing my phone. Two things these last three days made me realize:
D is still capable of making me feel bad.
I miss Chuchubells. That man was solid gold, but for all the wrong reasons.
Issues, I know. On a lighter note, here's something a co-worker from eTel e-mailed me:
A rather happy start to what is surely going to be another dreary stuck-in-the-office-for-the-whole-of-summer summer: I'm heading way way down south for Easter break. I leave Thursday morning, right after work, to endure a 4+ hour bus ride on my own and I'm crossing my fingers (like, hard) that I don't get lost.
Yay! Hope everyone enjoys the long weekend.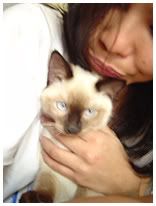 Super chopsuey entry. Yesssss, I have a camera; yessss, there will be pictures.