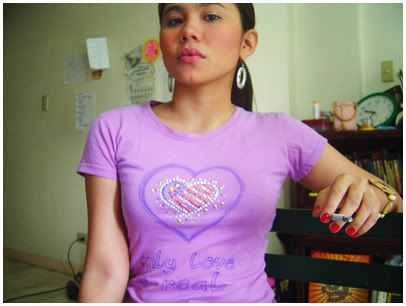 BitchFace, grrawr!
I'm guessing it's almost that time of the month that's bringing about all these homicidal thoughts. This is not good, as I'm prone to think and act recklessly when annoyed and tend to be standoffish towards people whom I would otherwise adore, had my hormones not been acting all loony. I'm also irrationally paranoid and extra emotional during this time, which leads to resentment and bitterness over not being coddled and babied.
And then there are days where I'd rather be left alone to sulk.
Hey, at least this is just me PMS-ing. It's a comforting thought that I'm not normally this way and that I'll be back to my regular self in…in…in a couple of weeks. I'm bracing myself for the impending CARBS! CARBS! GIMME CARBS! (and a micro sd!) phase that I go through, too. Oh boy.
o~o~o~o~o~o~o~o~o~o~o~o~o~o~o~o~o
Work LOL:
Caller: Umm, hi. I just made an itinerary and I accidentally cancelled it.
Helga: …Okay. And what do you want me to do?
Caller: Get it back?
Helga: …It's been cancelled. I can't uncancel it?
Seriously, we're not God here.
o~o~o~o~o~o~o~o~o~o~o~o~o~o~o~o~o
I screwed up yesterday while testing password protected posts: I edited my templates-functions-post.php file to come up with a customized message which messed up several files which in turn barred me from logging in to my WordPress dashboard. Suffice to say, that caused me an unfitful sleep. You laugh, but I refuse to get pwnt by some code.
Anyway, I've learned my lesson: password-protecting entries is gaynage.
o~o~o~o~o~o~o~o~o~o~o~o~o~o~o~o~o
FIVE AM! Time to go home! To a messy house and a sink full of dirty dishes, I bet. Argh.